Traveling to St. John's:
St. John's
is the provincial capital of Newfoundland and Labrador, Canada
and located on the eastern tip of the Avalon Peninsula on the island of Newfoundland,
so access is by plane or ferry.
The island of Newfoundland has its own time zone:
the Newfoundland time zone
(UTC/GMT-3:30 standard, UTC/GMT-2:30 DST).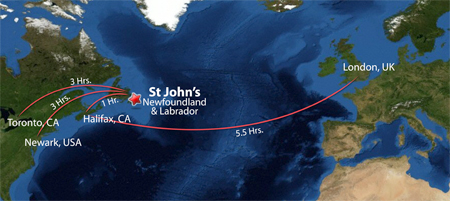 Travel by Air:
The St. John's International Airport (Airport code YYT) is only 15-20 minutes drive from the city centre, and 10 minutes drive from Memorial University campus.
It is important to inform your travel agent of the Airport code YYT when making reservations; it has been known for delegates to arrive in Saint John, New Brunswick - not a happy mistake!
There's a wide variety of international and connector airlines from which to choose including Air Canada, WestJet, Continental Airlines, Provincial Airlines and Air Labrador; providing travel to and within Newfoundland and Labrador.
There are direct (non-stop) flights from Halifax, Toronto, Montreal, Calgary, Edmonton and Newark to St. John's. Delegates traveling from Europe may connect through London (Heathrow) direct to Halifax and then to St. John's.
Air Canada provides connecting flights from Calgary, Edmonton, Halifax, Montreal and Toronto:
Book travel at
www.aircanada.com
or 1-888-247-2262 (in North America) or 0871 220 1111 (in UK).
See the Air Canada web site for other international toll-free numbers.
Air Canada is a member of
Star Alliance
Continental Airlines provides a daily direct flight from Newark,
and can provide alternate connections from Europe.
Book travel at
www.continental.com
or 1-800-231-0856.
Porter Airlines provides connecting flights from Halifax.
Book travel at
www.flyporter.com
or 1-888-619-8622.
Travel by Land:
If you are driving, there are two ferry routes from North Sydney, Nova Scotia to reach the island.
The Summer Ferry Schedule (from North Sydney, Nova Scotia):
North Sydney, Nova Scotia to Argentia, Newfoundland
is a 14-hour ferry ride followed by a 1.5-2 hour drive.



North Sydney, Nova Scotia to Port Aux Basques, Newfoundland
is a 6-hour ferry ride followed by a 10-12 hour drive.


Advance booking is essential. Contact Marine Atlantic for bookings:
be aware that the ferry schedule is subject to the weather and the crossings
do book up very fast. Book travel at www.marine-atlantic.ca or 1-800-341-7981.
Local travel:
Taxi rates to hotels in the local area are charged according to zones.
A taxi fare from the airport to downtown hotels costs approximately $25.00 (CAD).
A taxi fare from downtown to the university campus costs approximately $20.00 (CAD)
Most taxi companies will accept credit cards, however, it would be advisable
to check this with the driver first. If paying with US$, ask about the exchange rate.
Hotel shuttles: some hotels have free shuttle service from the airport
(Enquire with the hotel or on arrival at the airport).
Car Rental:
It is best to make your booking by the end of March to confirm availability
and pricing. The Air Canada web site has links to car rental companies with
some discounts. The following companies have offices at the St. John's airport:
Budget Rentals: www.budget.com 709-778-2962 or 1-800-268-8900
(ask for Memorial University Corporate Rates: A136104)
Enterprise Rentals: www.enterprise.com 709-738-3900 or 1-800-325-8007
(ask for Memorial University Corporate Rates: T401526 )
Avis: www.avis.ca709-722-6620 or 1-800-879-2847
(ask for Memorial University All World Discount Number: C284400 )
Dollar: www.dollar.com