Biographical Information of the Patron of CAIMS*SCMAI 2010:

Christopher W. Loomis, PhD
Vice-President (Research)
Memorial University of Newfoundland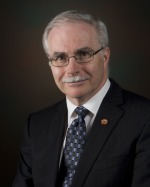 Christopher W. Loomis (PhD Queen's, 1983). Dr. Loomis received his PhD in Pharmacology & Toxicology from Queen's University at Kingston in 1983. Until 1987, he was an Assistant Professor in the Faculty of Medicine at Queen's, holding joint appointments in the Departments of Pharmacology & Toxicology, Anaesthesia, and Pathology & Laboratory Medicine. In 1988, Dr. Loomis moved to Memorial University of Newfoundland as Associate Professor of Pharmacology in School of Pharmacy, with a joint appointment to Basic Medical Sciences (Neuroscience Group, Faculty of Medicine). He was promoted to Full Professor in 1996 and became the Director of the School of Pharmacy in 1998. In 2002, Dr. Loomis was appointed Vice-President (Research) of Memorial University . During his first term, total research income increased from approximately $35M to more than $90M per year, targeted largely in strategic areas. Memorial University ranked first among Canadian universities with medical/doctoral programs in the rate of growth in research income from 2002 - 2007(RE$EARCH Infosource Inc.) more than doubling the group average. Dr. Loomis was renewed for a second term as Vice-President (Research) in December 2006, was appointed Vice-President (Academic) pro tempore in October, 2008, and appointed as President and Vice-Chancellor, Pro Tempore from September 1, 2009 until June 30, 2009. He has published extensively on the spinal pharmacology of pain, with particular emphasis on neuropathic pain and signaling events early after nerve injury. Dr. Loomis was the recipient of a Medical Research Council (MRC) Development Grant at Memorial University, and held operating grants primarily from the Canadian Institutes of Health Research (formerly the MRC) from 1985 to 2004. He is a multiple recipient of the Dr. Albert R. Cox Award for outstanding medical research and the Bristol Myers-Squibb Award for excellence in pharmaceutical teaching. Dr. Loomis served as a member and officer of a number of MRC/CIHR peer-review committees, and was Memorial University's first MRC Regional Director. He is a member of the Science Advisory Board of Health Canada, the College of Reviewers for the Canada Research Chairs Program, and the Board of Directors of CANARIE (Canada's advanced network organization for research, industry and education). He also serves on a number of other Boards including Springboard Atlantic Inc.: the organization of Technology Transfer Offices in Atlantic Canada, Genesis Group Inc., and C-CORE. Dr. Loomis is a former member of the Board of Directors of Genome Atlantic, the Rx&D Health Research Foundation Advisory Council, and the Panel of Examiners of the Pharmacy Examining Board of Canada.