Pikes in the Park Avenue United Church Cemetery, Carbonear South
If you came to this page directly, then you might want to know that I have additional information about the Pike families of Newfoundland on my website.
The following photos are: Copyright © David Pike.
---
The following photos were taken on 25 September 2004. Clicking on a thumbnail below will take you to the full image.

The last photo shown below depicts the corner of Park Avenue and Southside Road; the former Murray Elementary School is in the centre of the photo. The plaque shown in the first photo below is located further up Park Avenue (just off to the left from what you can see in the last of the photos below). The concrete wall along Southside Road does not extend the whole length of the cemetery... it appears to only go as far as the "old" cemetery, with plenty of more recent headstones in the newer section of the cemetery (which extends from Southside Road right back to Murray Elementary).




John C. 1864-1916
Sarah J. 1870-1970
Minnie M. 1901-1903


Robert Pike 1902-1977
wife Elfreida 1910-1955
son James J. 1939-1973


Erected by
their children in loving
memory of their father
Joseph H. Pike
who died Feb 14th 1916
aged 75 years
and their mother
Sarah Jane Pike
died Sep 26th 1915, aged 74 y'rs


William T Pike
1861-1925
Fernleigh Pike
aged 4 months
Beatrice Pike
1878-1967


George Pike
1876-1965
Winnifred Pike
1881-1961


Georgina Pike
1916-1988
Clara M Evans
1906-2003


J Herbert Pike
1901-1975
Ethel Pike
1909-1994


Margaret J Pike
1897-1982
George S Pike
1892-1983


In loving memory of
Janet
beloved wife of
Thomas Pike
who died
Augt 15, 1929
aged 57 years


Laura Winnifred Pike
born 28 Nov 1910
died 27 Oct 1995
aged 84 years


Stephen Pike 1854-1888
his wife Laura Horwood 1860-1927
their son Fletcher 1884-1889


Sacred
to
the memory of
THOMAS ARTHUR
beloved son of
Thomas & Julia Pike
who died Oct 1st 1879
AGED
3 years & 3 months


In memory of
Mary Ann Stowe
beloved wife of
Moses Pike
Born May 3, 1826. Died Jan 12, 1876
Also their beloved daughter
Delphena A
Born June 6, 1852. Died July 30,1874
---
The following photo was taken on 24 August 2006. Evidently I missed it on my previous trip to the cemetery.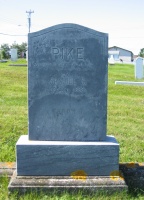 Samuel S Pike
1844-1899
Sarah J Pike
1845-1918
---


Last Modified: Sunday, 07-Jan-2018 13:00:58 NST