The John & Julian Pike gravestone on Pike's Lane, Carbonear
This headstone is fabled to mark the burial site of Gilbert and Sheila. However, the inscription that is on the stone, despite having been eroded over time, is clearly for a John Pike; the full inscription is believed to read as follows:
Here lies the body of John Pike Sen. who parted this life July 14 1753 [or perhaps 1763] aged 63. Also Julian [or Lilian] his wife, died June [or July] 14 [or 15].
The stone is located alongside Pike's Lane in Carbonear.
If you came to this page directly, then you might want to know that I have additional information about the Pike families of Newfoundland on my website.
All photos below are: Copyright © David Pike.
---
This photo is one that I took in the summer of 1988. At the time, the stone was in an overgrown field.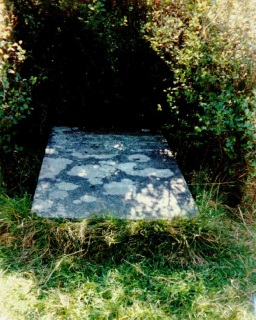 ---
Photos taken on 25 September 2004 are shown below. The stone is still on the south side of Pike's Lane, but is now easily seen from the road. The site has also been developed, and a stone commemorating the legend of Sheila has now also been erected just above John's stone. The following is what could still be read on John's stone:


Here lieth the Body of
JOHN PIKE Senr who de
parted this Life July 14th 1753
Aged [illegible]
Also JULIAN his Wife who
died [illegible]
[illegible]


Note that the word "Also" looks more like "Allo" which may be the result of a stylised "s" (in old writing, "s" often looked like "f"). The parts that I couldn't make out might be a bit more legible when the sun is at a different angle, but still the text is quite eroded.

It's also worth noting that "JULIAN" could in fact be a now obsolete spelling of "Julia Ann" or "Juliana".
---
Here are some additional photos, taken on 06 August 2005, of the information board that stands nearby:
---
The following photos were taken on 08 July 2018.
---


Last Modified: Friday, 13-Jul-2018 21:08:22 NDT