Sarah White Quinton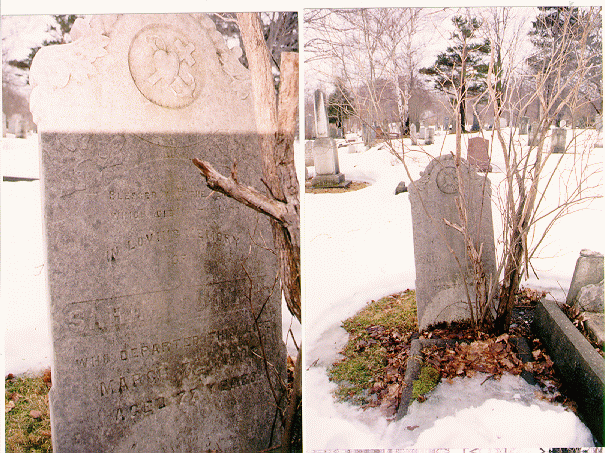 Above is the headstone for Sarah White Quinton. The inscription says that Sarah died March 7, 1907, aged 77 years. She is buried in the General Protestant Cemetery in St. John's. The photos above were provided by Wayne Pike.
---
The following photos were taken by me (David Pike) on 17 May 2011. Sarah's stone, which had been leaning badly, now rests flat on the ground.



---
Sarah's headstone was put back upright on 27 April 2012:



---
On 21 November 2012 cousin Darlene and I paid an evening visit to Sarah. The sun had set hours earlier, and by shining the light of an iPhone at various angles we were able to read all of the text on Sarah's stone:

BLESSED ARE THE DEAD
WHICH DIE IN THE LORD
IN LOVING MEMORY
OF
SARAH QUINTON
WHO DEPARTED THIS LIFE
MARCH 7TH 1907
AGED 77 YEARS

THEY DIE IN JESUS AND ARE BLESSED
HOW CALM THEIR SLUMBERS ARE
FROM SUFFERINGS AND FROM WOES RELEASED
AND FREED FROM EVERY SNARE

J.T.KELLY
---
Sarah's obituary appears on page 6 of the Evening Telegram of Friday, 8 March 1907:
Last evening, Sarah Quinton (sister of the late Capt. Edward White) of Bonavista Bay; funeral on to-morrow, (Saturday), at 2 30, from her son's residence, 45 Gower Street; friends will please accept this, the only, intimation.
A biography of Sarah's brother Edward can be found here.
---
Here are photos of Edward's gravestone in the General Protestant Cemetery, taken by me on 12 Oct 2008:



---