Claudius Watts' Letter about the Pike Family
The following is a transcript of a transcript of a letter written by Claudius Watts. The first transcript was made by Nimshi Crewe of PANL. The second is by me, to put this letter online on my website.

For what it's worth, I believe that I am descended from the Thomas Pike and "Jersey Kitty" that Claudius mentions ... their son Henry is, I believe, my great great great grandfather.

I'm not sure when this letter was written. However, the time can at least be narrowed by knowing that Claudius Watts lived from 9 April 1811 to December 1908. Here is a photo of his gravestone, taken by me on 11 June 2005: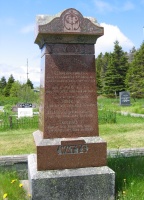 If anybody should happen to come across any further correspondence between Nathaniel Pike and Claudius Watts, please let me know at dapike@mun.ca.
If you came to this page directly, then you might want to know that I have additional information about the Pike families of Newfoundland on my website.
---
---
CLAUDIUS WATT'S LETTER
ON
THE PIKE FAMILY
to
NATHANIEL PIKE
Typescript of the manuscript copy of the original letter, in the handwriting of Claudius Watts, in the possession of his grandson, Mr. Theodore John Watts, St. John's.
Note. The bracketed numbers, (1) to (7), appearing in this typescript denote long spaces in the manuscript, indicating that Claudius did not know the names to insert there.
Typescript made today at
Newfoundland Archives.
[signature of N. C. Crewe]
St. John's, Nfld., N. C. Crewe,
19 November 1964. Research Officer.
---


Mr. Nathaniel Pike,   Dear Sir

In your record of the Pike family I see no mention of Francis Pike Senr.
or of his brothers or sisters, if any-or of his children.  He had
three sons Edward Thistle, John & Francis, and five daughters, Julia
Mary, Jane or Ann ( I am not sure which) Catherine & Elizabeth.
Julia became the wife of Francis Pike- son of Madam Pike- (She
ownded the land at thenorth side of the Pond & on what is now known as
Glory Lane- on both sides-south & north).  This Francis Pike was distin-
guished from others of that name as "Gentleman Franky".  The next
daughter of Francis Pike Senr. May, became the second wife of John
Gosse (of the business firm of Gosse,Pack & Fryer of Carbonear & Poole,
England) his first wife was the daughter of Madam Pike and the
sister of "Gentleman Franky".  The third daughter of Francis Pike Senr.
Jane or Ann-became the wife of Capt. Wm. Williams of Poole,England,
where she died.  The fourth daughter Catherine,became the wife of Dr.
Patrick Edward Molloy:  She left no children-as I think (but am not
quite sure). The fifth & last daughter Elizabeth was the wife of Capt.

                                                        2.

Francis Taylor, whose children you know.  This man Francis Taylor
& his wife Elizabeth Pike wer first cousins; his mother & her father
were brother & sister.  You know the families of Edward Thistle Pike
& of Francis, they could give you more & better information respecting
their family trees than I can.  John,the second son of the abovenamed
Francis Pike Senr.died when about 30 years old leaving three sons Capt.
Charles, Jabez & John.  His wife & the mother of the last named was a
Moors of Blackhead. She became the second wife of William Bennett an
Irishman who did a mercantile business for several years at Adams Cove
& afterwards at Carbonear under the firm name of Bennett & Ridley.
(Bennett was Ridley's uncle).

John Gosse's first wife was daughter of Madam Pike and sister of
Gentleman Franky - as before stated - she had two daughters, (but no
son) Sarah & Elizabeth (known as "Betsy Gosse".)  One of them was
married to a spanish merchant named Ancell, of Bilboa.  A son of theirs
was Spanish Consul at St. John's some years ago.  The other daughter
became the wife of a clergyman of Poole named Strong.  A son of theirs
"The Right Honbl. Sir Henry Strong" is now Chief Justice of the
Dominion of Canada: he was Knighted at the Queen's Jubilee.  By the
second marriage of John Gosse there was issue two sons born in
Carbonear John & William - and one child born in Poole - that died
young.  (I think a daughter).  John & William lived to be rather aged:
both have been dead several years.  On the death of their father they
took his place in the trade of Gosse, Pack & Fryer.  Stephen, son of
Edward Thistle Pike of Carbonear doubtless knows much of these two men
John & Wm. Gosse - as they were first cousins.

I don't know what was the relationship between the first Mrs. John
Gosse and my mother-if any-but she & the second Mrs. Gosse were first
cousins.  My mother's father's name was William, brother of Francis
Pike Senr. before named:  there was another brother named       (1)
who settled at Mosquito - where he carried on a large fishery.  He died
when about 35 years old leaving     (2)     sons Samuel, Edward, Moses
      (3)      and two daughters, Patience & Mary.  Patience became the
wife of John Pike of John of Carbonear (known as carpenter John).

                                                        3.

Mary was the wife of Joseph Taylor of Rich.,Senr.(north side of
Carbonear). The wide of       (4)      Pike of Mosquito married a
man named Simmons or Simmonds-who had been"Master of Voyage" for her
after the death of her husband.  The elder Simmonds' of Mosquito were
the issue of the widow     (5)    Pike's second marriage.

My grandfather Wm. Pike, was drowned near Cape St. Francis (with one
or two of his sons) leaving three sons - Francis, Samuel & Edward,
(who lived to be old men) and two daughters - Mary, my mother, and
Patience, who was the wife of Wm. Heighington Taylor - they were
first cousins.  Francis Pike, Senr., William Pike, my grandfather,
and      (6)    Pike of Mosquito were brothers - they had one sister,
Catherine (perhaps more), who was the wife of Wm. Taylor, Senr.
(south side Carbonear and was known as Aunt Kitty).  They had seven
sons, Wm. Heighington, Richard, John, Joseph, Nathaniel, Edward &
Francis - and one daughter Julia, who became the wife of Thomas
Chancey - the second.

As regards Madam Pike I have no knowledge of her, of her husband or
of her maiden name.  There was a business - both mercantile and
fishing at Carbonear many years ago known as that of Pike & Green.
I have no knowledge of them save by tradition.  The Madam Pike here
referred to had three sons - Francis, known as "Gentleman Franky"
before named, a Doctor of Medicine and a Shipmaster - christian
names not known by me.  The Shipmaster went to the United States,
as I have heard, & obtained command of a United States Privateer
and captured many of our large fishing boats & a few merchant vessels
with some bankers on our South Coast during the War of 1812.  This
was reported to me as fact many years ago - but I have serious doubt
of its truthfulness!

Besides the members of the Pike family in Carbonear, &c herein & by
your record alluded to, there was an old man Thomas Pike who lived
at the south side of Carbonear and who attained a great age: a
most remarkable man.  I once made a point of paying him a visit.  I
found him sitting outside his door facing south - the sun was shining
brightly - he was getting the full benefit of it and highly enjoyed
it as he been confined to his bed for several months from severe

                                                        4.

sickness.  His bodily frame was fine - his head was superb like a piece
of polished marble - not a hair on it.  His memory was good.  He told
me a good deal   about his early adventures and exploits:  and about
many of the first settlers in Carbonear, the adjacent coves, and of
his going with others to live on Carbonear Island - their guns &
fortifications to resist the attacks of the French & their Indian allies,
&c which they much dreaded.  He had made several voyages to Spain &
Portugal in fish laden vessels in his early years, &c. &c.     I have
an idea that this very aged man - Thomas Pike was the brother of the
father of Francis Pike, Senr. of my grandfather, Wm. Pike of     (7) Pike
of Mosquito and of Catherine Pike - the wife of Wm. Taylor, Senr. - south
side Carbonear:  and if so - that branch of the Pike family resided in
Carbonear many years anterior to the advent of the John Pike there -that
you start with as the  progenitor of the Pike family in Carbonear.  Be
that as it my - they were all originally from Poole, England.

There was another Thomas Pike - south side of Carbonear who lived to
great age - his wife had the sobricat of "Jersey Kitty" - she was rather
clever - taught school for several years - but was quite eccentric at
intervals- They were the parents of Moses, John & Henry-- perhaps of
one or more daughters - but I know of none -  Who were the parents
this last named Thomas Pike I do not know.  Mr. Woodbine Pike could-
as I think - give you a good deal of information respecting his grand-
mother, Madam Pike - of her husband, & of Pike & Green- if there was any
business relationship or kinship between them, &c.  If the record of the
Pike family & their various ramifications is to be published it should
be amplified as much as possible.

Who was Mrs. Lilly                      Yours very truly,
and who was Mrs. Thomas                 Sgd. Claudius Watts - the only
Danson?                                 surviving one of the children of
                                        Henry Watts & Mary Pike who
                                        were married in 1804.


---
---
Below are photographs taken by David Pike on 09 February 2019 of Nimshi Crewe's typescript of Claudius Watts' letter, as well as a photostat copy of the letter.

These documents are at PANL with accession number MG 281, Box 6, File 138c.

All photos are: Copyright © David Pike.



---
---


Last Modified: Saturday, 09-Feb-2019 16:35:25 NST