Pikes buried in Bridgewater, Nova Scotia
If you came to this page directly, then you might want to know that I have additional information about the Pike families of Newfoundland on my website.
---
The following photo was sent to me in February 2019 by Mandy Clark.

This photo is: Copyright © Mandy Clark and is reproduced here with permission.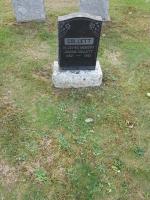 Jemima Collett
(daughter of Emanual Pike of St Lawrence, Nfld)
---


Last Modified: Saturday, 16-Feb-2019 17:49:04 NST