Amelia Jane Ford Ray (Higgins?) Kiplinger
---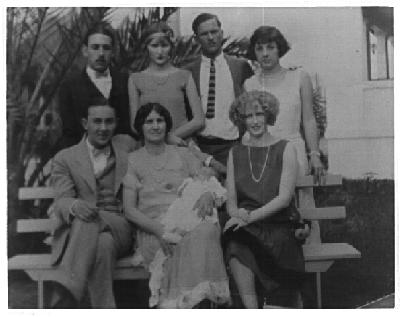 ---
I only know who some of the people in the above photograph are. If by some chance you recognise the others, please email me.

Back (l-r): unknown, unknown, Stephen Ford, unknown
Front (l-r): unknown, Amelia Jane Ford Ray (Higgins?) Kiplinger, unknown child, Rachael Josephine Ford Nordstrom Hanson

The photograph was taken by Stokes Studio, 446 W. Flagler, Miami, Florida. If anybody knows what became of this studio, please let me know.

When the photo was taken is a mystery. My best guess is that it was between 1901 and 1920.
---
The woman holding the child in the centre of the above photograph was Amelia Jane Ford Ray (Higgins?) Kiplinger.

We have been able to identify two of the other people as Amelia's brother Stephen and her sister Josephine.
---
Amelia was born in English Harbour, Trinity Bay, Newfoundland on 13 June 1877, to James Ford and Martha Price. She left Newfoundland for America (when we don't know) and married Wade Henry Ray in Pasco County, Florida on 05 January 1901. The wedding was performed by a Benjamin L. Ray, MD and Baptist Minister (possibly the groom's father?).

Amelia had three children:
Leda May, born about 1901
Adolphus James, born 01 August 1903
Florence, born about 1906
What became of Wade is a mystery. The 1910 census lists Amelia as the wife of a fellow named Lawrence Higgins (he and she were both stated to be aged 31 at the time). The census also says they had been married for 7 years. Leda May, Adolphus, and Florence are all listed with Higgins as their surname. The census further states that Lawrence was born in Mississippi, and that he was a Carpenter. Similar to Wade, what became of Lawrence is also a mystery.
In the 1920 census, Amelia is listed as the wife of C.E. Kiplinger, who is stated as being a Chiropracter, 48 years old, and born in Ohio. Amelia is listed as being a Medium. Amelia's three children are also listed, this time with surname Ray.
Amelia kept the Kiplinger surname until her death (27 January 1961), but again we know very little about what became of C.E. Kiplinger. Letters from 1925 and 1926 show that Amelia was lending him money, at which time he was residing in Ocala, Florida.
It should be mentioned that Amelia resided in Miami for most of her adult life, except possibly for a brief time spent in Philadelphia, Pennsylvania in the 1930's.
Amelia died in Miami in 1961. However, she is buried at Tenants Harbor, Maine, presumably because that was where her sister Florence resided.
---
Amelia's son Adolphus James (AJ) served in the US Coast Guard aboard the vessels Tuscarora and Ossipee during 1920 and 1921. At some point in time he married Ernestine Upshaw of Rutherford, Tennessee... they had a daughter Carol May in 1940.

I won't get into the details, but when Carol was around 8 or 10 years old, she was adopted by a couple from out of the state of Florida. Many years later she was reunited with her AJ and Ernestine.

During a conversation with her father, Carol was told that AJ had fathered another daughter before. Unfortunately, the details of this other child's identity were never mentioned, and AJ has since passed away.
---
We're pretty sure that Amelia had a daughter named Florence. If we're right, then she married a man named Dane Gordon and lived in a Philadelphia suburb called Drexel Hill. They had two children, a boy named Larry, and a daughter named Lee.

Florence died in hospital on 09 April 1940. I know a bit about what the rest of the family did in the next few months, thanks to a few letters from a Philadelphia lawyer named Edward N. McMillan, written to Amelia. In particular, Lee spent the summer in Canada with an aunt of Edward McMillan. Dane found employment as a taxi-cab driver in Chester, and for a time resided at a school operated by a woman named Dr. Beauer (this appears to the same school which Larry and Lee attended). After that, I have no idea of what happened to these people... if you know anything that might help me find these long-lost cousins, please let me know.
---
2008 update: I've found Florence's obituary, on page 2 of the Chester Times (Chester, Pennsylvania) of Wednesday 10 April 1940:
Mrs. Florence Higgins Gordon, and an infant child died suddenly at the Chester Hospital yesterday. Mrs. Gordon was the wife of Dane Gordon, instructor of violin of the Townsend Hall School. She was a teacher in the Kindergarten Department of the same institution, in Upland, and was a former resident of Florida.

She is survived by her husband, two children, Larry and Lee, and her mother, Mrs. Amelia Kipplinger, of Florida. Funeral services will be held on Friday afternoon at 2 o'clock at the Oliver Bair funeral parlors, 1820 Chestnut street, Philadelphia. Interment will follow at Arlington cemetery, Drexel Hill.
---