Hike: Cape Spear to Freshwater Bay ... 21 July 2001
Here are some photos that I took while hiking from Cape Spear to Freshwater Bay on 21 July 2001. The hike was a Canada Parks Day event... several other hikes were also led out from Cape Spear that day.

All photos are: Copyright © David Pike.
---
Here's a seastack in between Blackhead and Freshwater Bay. Off in the distance you can just make out the Cabot Tower and the lighthouse at Fort Amherst.
And another view of the seastack, now from the other side.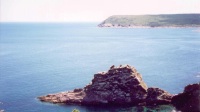 ---


Last Modified: Friday, 08-Oct-2004 10:38:25 NDT